Products
The unique add-on that relieves your workload
Will-Fill simplifies tasks. Periodic tasks such as measuring, filling or refilling, reporting and conditioning are taken over by Will-Fill. Because the components are linked to a high-performance control unit, Will-Fill is able to regulate and adjust the fluid level and the fluid condition automatically. Or alert you when necessary.
Features
Versions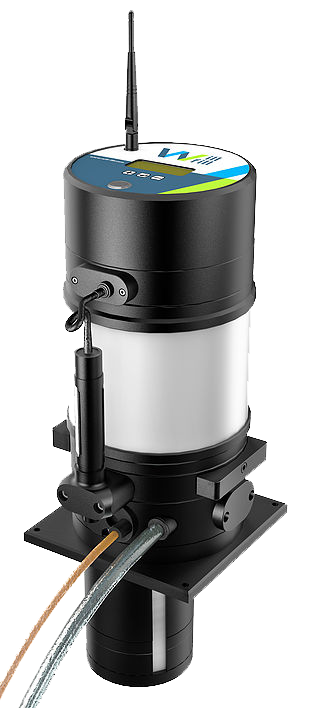 Maintenance
Cleanliness
Quality
Production
Cost
Maintenance
Checking, measuring and topping off metalworking fluid is a thing of the past with the Will-Fill system. By linking measurements to automatic filling or refilling, Will-Fill is able to keep the emulsion level at the proper level according to your preferences. Unmanned work becomes even easier, and the focus in the production process can finally be shifted. But there's more: Will-Fill uses level sensors that allow the internal control unit to learn a machine's normal requirements. If there is a deviation from this, a signal can be sent if desired and no filling is carried out.
Cleanliness
Odours, skin irritation and leakage become a thing of the past. Because Will-Fill can be set to different limit values, maintenance of the machine can be scheduled before contamination occurs. During machine downtime, Will-Fill also aerates the metalworking fluid reservoir to prevent odours.
Quality
Will-Fill keeps a close eye on the quality of the metalworking fluid. Should there be a deviation, the device will be informed about this so that no erosion can occur on the finished products. Because Will-Fill keeps the emulsion in optimum condition, processing tools always achieve the expected service times and conditions. If a tool fails, this failure is then due to something other than the wrong metalworking fluid composition.
Production
By learning the machines normal requirements, Will-Fill can initiate a refill well above the required minimum amount of metalworking fluid. This results in smaller temperature shocks during filling, thus limiting product failure. The Will-Fill system therefore guarantees optimal production output.
Cost
Will-Fill applies "activity-based costing". To put it differently: Will-Fill makes the overhead costs of water and oil more transparent because they can be attributed to a specific part of production. Moreover, large heat output or extensive grinding can result in an incorrect composition of the metalworking fluid, which makes refilling with fixed proportions dangerous but also expensive. Will-Fill is able to work with variable compositions and thus reduces costs.
Different Versions
Will-Fill comes in several versions, adapted to the metalworking fluid system in which it will be installed. Sample taking from the device must be able to take place over a wide range of coolant levels. Model D120, for example, can detect a level change of 120 mm and model D520, a change of 520 mm. In addition, the Will-Fill substructure must always be 50 to 70 mm under water.
Features
Will-Fill works with all types of metalworking fluid and at all levels of water pressure.
Will-Fill fills and refills automatically according to the specified fluid parameters.
Will-Fill calibrates the sensors to the connected metalworking fluid and water supply.
Up to seven values for the metalworking fluid are measured and reported.
An online dashboard handles off-site monitoring.
The consumption of metalworking emulsion and water are recorded, enabling accurate cost control.
The limit values for scheduling maintenance can be set, thus preventing contamination of the metalworking fluid.
By knowing normal fluid use, Will-Fill is able to detect an abnormal coolant level that can indicate a malfunction or a leak from the connected machine.
E-mail notifications of each event.
Will-Fill contains a PID controller for autonomous adjustment.
Plug and Play
Will-Fill can easily be integrated with an existing or new installation. Will-Fill can be started up in an empty or semi-full metalworking fluid container. A round 140-mm opening is sufficient. The Will-Fill upperstructure takes up little space – 200 x 200 x 500 mm (LWH) – making it easy to fit. There is also a wizard that accompanies start-up of the device so that no settings are forgotten, ensuring perfect operation.